SOLENOID OPERATED DIRECTIONAL VALVE

SWH-G02 SERIES

FEATURES

• Armature operates in oil system. Impact is cushioned, noise is reduced and solenoid life is increased.
• Wet armature solenoid eliminates pushpin seal, therefore no seal wear or leakage for longer valve life.
• Molded coils for maximum insulating properties, which is impervious to moisture and dirt.
• Plug-in solenoid, for ease of maintenance.
• All spools and bodies are interchangeable, simplifying maintenance.
• Indicating signal lights and bolt kits are standard.
• High pressure, high flow rating, and low-pressure drop.
• Specially designed, balanced spool allows proper shifting force, for maximum reliability and long life.
• Viton seal kits are available for fire-resistance fluids.



Model Code - top








Specifications - top




| | |
| --- | --- |
| Maximum operating pressure | 310 BAR (4500 PSI) |
| Rated flow capacity | 63 LPM (16.8 GPM) MAX - Varies by spool type |
| Maximum tank line back pressure | 138 BAR (2000 PSI) |
| Maximum frequencies of operation | 300 CPM |
| Recommended filtration | 25 MICRON |
| Hydraulic fluids | Mineral Oil, Viscosity 10 - 400 cST |
| Temperature range | -25° C to +90° C (-13° F to +194° F) |



Solenoid Ratings - top



ELECTRIC SOURCE

COIL TYPE

VOLTAGE

CURRENT & POWER

<![if !supportMisalignedRows]>
<![endif]> <![if !supportMisalignedRows]>
<![endif]>

Hz

SOURCE

RANGE

IN-RUSH

HOLDING

WATTAGE

<![if !supportMisalignedRows]>
<![endif]>

RATED

(±10%)

CURRENT (A)

CURRENT (A)

<![if !supportMisalignedRows]>
<![endif]> <![if !supportMisalignedRows]>
<![endif]>

AC

A24

60

AC24V

21.6-26.4

6.8

1.7

<![if !supportMisalignedRows]>
<![endif]>

(-10 and -20 Options)

A110

50

AC100V

90-110

1.60

0.46

<![if !supportMisalignedRows]>
<![endif]>

60

AC100V

90-110

1.40

0.32

<![if !supportMisalignedRows]>
<![endif]>

AC110V

99-121

1.50

0.39

<![if !supportMisalignedRows]>
<![endif]>

A120

50

AC110V

99-121

1.30

0.38

<![if !supportMisalignedRows]>
<![endif]>

60

AC120V

108-132

1.20

0.27

<![if !supportMisalignedRows]>
<![endif]>

A220

50

AC200V

180-220

0.80

0.23

<![if !supportMisalignedRows]>
<![endif]>

60

AC200V

180-220

0.70

0.16

<![if !supportMisalignedRows]>
<![endif]>

AC220V

198-242

0.75

0.19

<![if !supportMisalignedRows]>
<![endif]>

A240

50

AC220V

198-242

0.67

0.1 9

<![if !supportMisalignedRows]>
<![endif]>

60

AC240V

216-264

0.59

0.13

<![if !supportMisalignedRows]>
<![endif]>

R

R110

50

AC100V

90-110

0.30

0.30

26

<![if !supportMisalignedRows]>
<![endif]>

(-10 and -20 Options)

60

AC110V

99-121

0.30

0.30

<![if !supportMisalignedRows]>
<![endif]>

R220

50

AC200V

180-220

0.15

0.15

<![if !supportMisalignedRows]>
<![endif]>

60

AC220V

198-242

0.15

0.15

<![if !supportMisalignedRows]>
<![endif]>

R240

50

AC220V

180-220

0.14

0.14

<![if !supportMisalignedRows]>
<![endif]>

60

AC240V

216-264

0.14

0.14

<![if !supportMisalignedRows]>
<![endif]>

DC

D12

DC 12V

10.8-13.2

2.20

2.20

<![if !supportMisalignedRows]>
<![endif]>

(-10 and -20 Options)

D24

DC 24V

21.6-26.4

1.10

1.10

<![if !supportMisalignedRows]>
<![endif]>

DC

D12

DC 12V

10.8-13.2

2.60

2.60

28.8

<![if !supportMisalignedRows]>
<![endif]>

(-31 and -41 Options)

D24

DC 24V

21.6-26.4

1.30

1.30

<![if !supportMisalignedRows]>
<![endif]>



TECHNICAL DATA: - top

• Solenoid can be used within -10% to +10% of the rated voltage of the coil.
• Withstand voltage 1500 v/sec.
• Insulation resistance over 100mQ
• Conforms to rating IP65
• A momentary signal of approx 0.1 second is required for shifting action.


ACCESSORIES: - top

• Mounting bolt kits are supplied with valve socket head cap screws
(#10-24UNCx1-3/4"L 4 pcs) for tightening torque 50-70 kgf-cm (43.3-60.6 lb-in).
• O-Ring AS568-012 4 pcs.


PRESSURE DROP AND PERFORMANCE CURVES - top


TEST SYSTEMS

1. Testing Valve
2. Pump
3. Pressure Sensor
4. Flow Sensor
5. Relief Valve
6. Throttle Valve

TEST CONDITIONS
Pressure: 69 BAR (1000PSI)
Flow Rate: 63 LPM(16.8GPM)
Viscosity: 35 cSt (175SSU)

TEST CIRCUIT



PERFORMANCE CURVES



CONTRAST CHART BETWEEN FACTORS AND VISCOSITIES


VISCOSITY
cSt
15
20
30
40
50
60
70
80
90
100
SSU
77
98
141
186
232
278
324
371
417
464
FACTOR (G)
0.81
0.87
0.96
1.03
1.09
1.14
1.19
1.23
1.27
1.30


The pressure drop (AP') can be obtained from the formula
AP'=AP (G'/0.85) for other specific gravity (G').

MODEL
PRESSURE DROP CURVE NUMBER
NO.
P>A
B>T
P>B
A>T
P>T
C2
5
5
5
5
_
C3
6
6
6
6
4
C4
5
6
5
6
_
C40
5
5
5
5
_
C5
2
2
2
2
4
C6
1
1
1
1
4
C60
1
1
1
1
3
C7
6
5
6
5
_
C8
5
5
5
6
_
C9
6
5
5
5
_
D2
5
5
5
5
_
D3
5
3
5
3
_
B2
4
5
4
5
_
B3
3
3
5
5
_
B20
2
_
5
_
_
B2S
4
5
4
5
_
B3S
5
5
3
3
_
B20S
5
_
2
_
_



List of Spool Functions: - top



THE MAXIMUM FLOW RATE LPM(GPM) UNDER DIFFERENT PRESSURE BAR (PSI)
SPOOL TYPE NORMAL POSITION
50 BAR (735 PSI)
100 BAR (1470 PSI)
150 BAR (2200 PSI)
207 BAR (3000 PSI)
250 BAR (3675 PSI)
310 BAR (4500 PSI)
50 BAR (735 PSI)
100 BAR (1470 PSI)
C2
63 (16.8)
63 (16.8)
63 (16.8)
63 (16.8)
63 (16.8)
63 (16.8)
40 (10.7)
40 (10.7)
32 (8.5)

25 (6.7)
C3
63 (16.8)
63 (16.8)
63 (16.8)
63 (16.8)
63 (16.8)
63 (16.8)
63 (16.8)
63 (16.8)
C4
63 (16.8)
63 (16.8)
63 (16.8)
63 (16.8)
63 (16.8)
63 (16.8)
40 (10.7)
40 (10.7)
32 (8.5)
25 (6.7)
C40
63 (16.8)
63 (16.8)
63 (16.8)
63 (16.8)
63 (16.8)
63 (16.8)
40 (10.7)
40 (10.7)
32 (8.5)
25 (6.7)
C5
50 (13.3)
50 (13.3)
50 (13.3)
50 (13.3)
50 (13.3)
50 (13.3)
50 (13.3)
C6
40 (10.7)
40 (10.7)
40 (10.7)
40 (10.7)
40 (10.7)
40 (10.7)
40 (10.7)
C7
63 (16.8)
63 (16.8)
63 (16.8)
63 (16.8)
63 (16.8)
63 (16.8)
40 (10.7)
40 (10.7)
32 (8.5)
25 (6.7)
C8
63 (16.8)
63 (16.8)
63 (16.8)
63 (16.8)
63 (16.8)
63 (16.8)
40 (10.7)

40 (10.7)
32(8.5)

25 (6.7)
C9
63 (16.8)
63 (16.8)
63 (16.8)
63 (16.8)
63 (16.8)
63 (16.8)
40 (10.7)
40 (10.7)
32 (8.5)
25 (6.7)
B2
63 (16.8)
63 (16.8)
63 (16.8)
63 (16.8)
63 (16.8)
63 (16.8)
63 (16.8)
20(5.3)
B3
63 (16.8)
63 (16.8)
63 (16.8)
63 (16.8)
63 (16.8)
63 (16.8)
63 (16.8)
63 (16.8)
B20
35 (9.3)
32 (8.5)
D2
63 (16.8)
63 (16.8)
63 (16.8)
63 (16.8)
63 (16.8)
63 (16.8)
40 (10.7)
30 (8.0)
D3
63 (16.8)
63 (16.8)
63 (16.8)
63 (16.8)
63 (16.8)
63 (16.8)
40 (10.7)
30 (8.0)






SPOOL TYPE NORMAL POSITION
150 BAR (2200 PSI)
207 BAR (3000 PSI)
250 BAR (3675 PSI)
310 BAR (4500 PSI)
50 BAR (735 PSI)
100 BAR (1470 PSI)
150 BAR (2200 PSI)
207 BAR (3000 PSI)
250 BAR (3675 PSI)
310 BAR (4500 PSI)
C2
18 (4.8)
14 (3.7)
10 (2.7)
10 (2.7)
40 (10.7)
40 (10.7)
18 (4.8)
14 (3.7)
10 (2.7)
10 (2.7)
C3
12 (3.2)
9.(2.4)
7 (1.9)
7 (1.9)
32 (8.5)
25 (6.7)
12 (3.2)
9.(2.4)
7 (1.9)
7(1.9)
C4
63 (16.8)
63 (16.8)
63 (16.8)
63 (16.8)
63 (16.8)
63 (16.8)
63 (16.8)
63 (16.8)
63 (16.8)
63 (16.8)
C40
18 (4.8)
14 (3.7)
10 (2.7)
10 (2.7)
40 (10.7)
40 (10.7)
18 (4.8)
14 (3.7)
10 (2.7)
10 (2.7)
12 (3.2)
9 (2.4)
7 (1.9)
7 (1.9)
32 (8.5)
25 (6.7)
12 (3.2)
9 (2.4)
7 (1.9)
7(1.9)
C5
18 (4.8)
14 (3.7)
10 (2.7)
10 (2.7)
40 (10.7)
40 (10.7)
18 (4.8)
14 (3.7)
10 (2.7)
10 (2.7)
12 (3.2)
9 (2.4)
7 (1.9)
7 (1.9)
32 (8.5)
25 (6.7)
12 (3.2)
9 (2.4)
7 (1.9)
7(1.9)
C6
50 (13.3)
50 (13.3)
50 (13.3)
-
50 (13.3)
50 (13.3)
50 (13.3)
50 (13.3)
50 (13.3)
-
C7
40 (10.7)
40 (10.7)
40 (10.7)
-
40 (10.7)
40 (10.7)
40 (10.7)
40 (10.7)
40 (10.7)
-
C8
18 (4.8)
14 (3.7)
10 (2.7)
10 (2.7)
40 (10.7)
40 (10.7)
18 (4.8)
14 (3.7)
10 (2.7)
10 (2.7)
12 (3.2)
9 (2.4)
7 (1.9)
7 (1.9)
32 (8.5)
25 (6.7)
12 (3.2)
9 (2.4)
7 (1.9)
7(1.9)
C9
18 (4.8)
14 (3.7)
10 (2.7)
10 (2.7)
40 (10.7)
40 (10.7)
18 (4.8)
14 (3.7)
10 (2.7)
10 (2.7)
12 (3.2)
9 (2.4)
7 (1.9)
7 (1.9)
32 (8.5)
25 (6.7)
12 (3.2)
9 (2.4)
7 (1.9)
7(1.9)
B2
18 (4.8)
14 (3.7)
10 (2.7)
10 (2.7)
40 (10.7)
40 (10.7)
18 (4.8)
14 (3.7)
10 (2.7)
10 (2.7)
12 (3.2)
9 (2.4)
7 (1.9)
7 (1.9)
32 (8.5)
25 (6.7)
12 (3.2)
9 (2.4)
7 (1.9)
7(1.9)
B3
20 (5.3)
20 (5.3)
20 (5.3)
20 (5.3)
63 (16.8)
63 (16.8)
63 (16.8)
63 (16.8)
63 (16.8)
63 (16.8)
B20
63 (16.8)
63 (16.8)
63 (16.8)
63 (16.8)
63 (16.8)
63 (16.8)
63 (16.8)
37 (9.9)
30 (8.0)
28 (7.5)
45 (12.0)
45 (12.0)
45 (12.0)
45 (12.0)
45 (12.0)
45 (12.0)
D2
25 (6.7)
20 (5.3)
18 (4.8)
15 (4)
63 (16.8)
50 (13.3)
45 (12.0)
40 (10.7)
32 (8.5)
25 (6.7)
45 (12.0)
30 (8.0)
28 (7.5)
25 (6.7)
22 (5.9)
18 (4.8)
D3
25 (6.7)
21 (5.6)
16 (4.3)
13 (3.5)
40 (10.7)
30 (8.0)
25 (6.7)
21 (5.6)
16 (4.3)
13 (3.5)
25 (6.7)
21 (5.6)
16 (4.3)
13 (3.5)
40 (10.7)
30 (8.0)
25 (6.7)
21 (5.6)
16 (4.3)
13 (3.5)



NOTE:

1. The figures in the square show the flow under saturated temperature and 90% rated voltage.
2. The upper number in table describes the maximum flow under DC and R. the lower number in table describes the maximum flow under AC.


TEST SYSTEMS- top
1. Testing Valve
2. Pump
3. Pressure Sensor
4. Flow Sensor
5. Relief Valve
6. Throttle Valve

TEST CONDITIONS
Pressure: 138 BAR (2000PSI)
Flow Rate: 30 LPM(8 GPM)
Viscosity: 35 cSt(175 SSU)

TEST CIRCUIT





MODEL
CHANGE OVER TIME (sec)
T1
T2
SWH-G02-AC SERIES
0.01-0.04

0.02-0.04
SWH-G02-DC SERIES
0.02-0.06
0.02-0.04



OPTION LS- top

ELECTRICAL SURGE CONTROL MODEL SWH - G02 - *** - D ** - ** - LS

FEATURES
• Suppresses the surge voltage.
• Eliminates sparks between relay contacts.
• Extends the life of the relay contact.

EFFECTS

• Improves the reliability of the control relay.
• Extends the life of conventional relays.
• Can be operated with a miniature relay.
• The RAC rectifier built-in DC model eliminates sparks at the control relay contact. It can be directly operated with a PLC (programmable logic controller).



| | |
| --- | --- |
| Electrical surge waveform standard DC solenoid | Electrical surge control DC solenoid |
| | |




Dimensions - top

SWH - G02 - C ** - **** - 10 - **
with AC/DC/RF solenoids

MOUNTING SURFACE: ISO 4401-AB-03-4-A
UNIT: mm( inch) WEIGHT: 2.0 kgs (4.4 lbs)



Dimensions - top

SWH - G02 - B ** - **** - 10 - **
with AC/DC/RF solenoids

MOUNTING SURFACE: ISO 4401-AB-03-4-A
UNIT: mm( inch) WEIGHT: 2.0 kgs (4.4 lbs)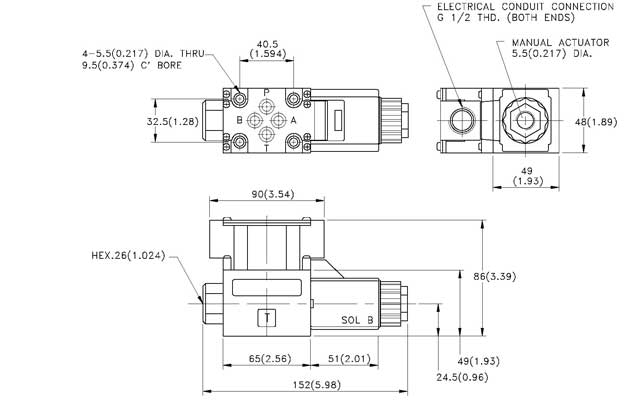 Dimensions - top

SWH - G02 - *** - **** - 20 - **
with AC/DC/RF solenoids

MOUNTING SURFACE: ISO 4401-AB-03-4-A
UNIT: mm( inch)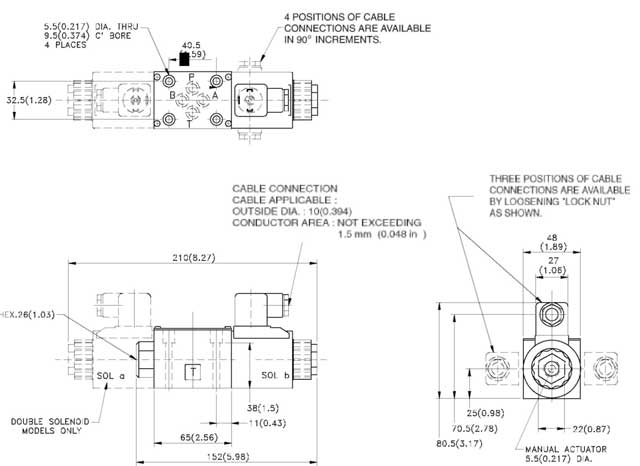 Model and Weight - top
MODEL
WEIGHT
MODEL
WEIGHT
kg(lb)
kg(lb)
SWH-G02-C **-A***-10-**
1.9(4.18)
SWH-G02-C -A ***-20- **
1.9(4.18)
SWH-G02-B **- A***-10-**
1.6(3.52)
SWH-G02-B- A***-20-**
1.5(3.3)
SWH-G02-C**- D/R***-10-**
2.0(4.4)
SWH-G02-C - D/R ***20-**
2.0(4.4)
SWH-G02-B**- D/R**-10-**
1.6(3.52)
SWH-G02-B - D/R ***-20- **
1.6(3.52)
SWH-G02-D **- A ***-10-**
1.9(4.18)
SWH-G02-D- A ***-20- **
1.9(4.18)
SWH-G02-D**-D/R ***-10-**
1.9(4.18)
SWH-G02-D - D/R *** -20-**
1.9(4.18)